News And Event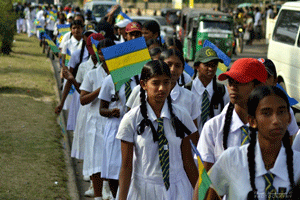 The "Feet for Friends" Centenary fund raising walk organized by the Resource Development Committee of the Ceylon School for the Deaf & Blind,and the Rotaractors of the Kelaniya University was held on 25th February commencing from the premises of the School for the Blind. The walk commenced with Bishop of Colombo flagging off the walk at 4.00 pm after a short prayer. The walk progressed upto Angulana junction and returned to the school. The duration being approximately 1 hour.
The Princess of Wales College western music band and the Holy Emmanuel Church eastern band was in attendance. Children from both the School for the Blind and School for the Deaf along with the principals / teachers / matrons and house masters took part in the walk. In addition Members from the Board of Trustees , Members of the Resource Development Committee , children from other schools, and well wishers also took part. On return to the premises of the School for the Blind after the walk the children and the well wishers were treated with refreshments and Milo.
A variety entertainment by the children of the School for the Blind and the School for the Deaf was staged after the walk at the School for the Blind auditorium, which showcased the talents of our children from both the schools.