News And Event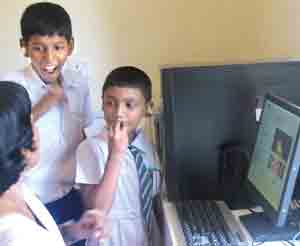 Keells Super is partnering the Ceylon School for the Deaf and Blind to help hearing and sight impaired children. The supermarket chain will act as the facilitator enabling shoppers at Keells Supermarkets islandwide to contribute to the Ceylon School for the Deaf and Blind while doing their daily or weekly shopping. The process is hassle-free and has no bothersome administrative work. All contributions to the Ceylon School for the Deaf and Blind are tax-deductible.

The Ceylon School for the Deaf and Blind is the umbrella organization for three residential schools- the School for the Deaf and the School for the Blind in Ratmalana, and the Nuffield School for the Deaf and Blind at Kaithady in Jaffna. The Blind School, houses 205 children, the School for the Deaf 223, and Nuffield, 230.
The School provides the children in its care with food and lodging, healthcare and recreational facilities in addition to educating them, from nursery up to GCE O/Level, and also training them in several vocations.
The school charges no fees and though it does receive a Government grant, this money cannot meet the huge costs of upkeep of the buildings and infrastructure, staff and carers' salaries, and the expenses of the special training needed.
Annual operational expenses for the three schools are at a staggering Rs. 76 million, of which the State covers about Rs. 27 million. State monies pay the salaries only of State approved- cadre teachers and give each child Rs. 50 per hostel day which is during school term only - in the Ratmalana schools, and Rs. 20 per child per hostel day at the Nuffield School. The entire balance monies amounting to about Rs. 50 million must be met through private donations.
"We are in desperate need of money to continue to run these schools. Every contribution is valued, be it the savings of a child or the donation of a meal commemorating some event, a contribution from a service organization or a bequest left in a last will," says Commodore Laki Mendis, the schools' Executive Director.
Small change can make a big change to the lives of the deaf and blind. You just need to donate Rs. 5 or more or multiples of Rs 5 at the checkout counter each time you shop at a Keells Super. Your contribution can be used in the:
Meals Programme for the schools, for donations ranging from Rs 1900 to Rs 11650 per school, depending on the meal; Or you can 'Sponsor a Child' for just Rs 2,000 per month or Rs 24,000 p.a.; Or you can help buy special equipment to educate a sight or hearing impaired child; Or help maintain and upgrade the school's infrastructure and meet the administrative expenses.
For more details, please contact the Executive Director on 2625204 / 07144406779